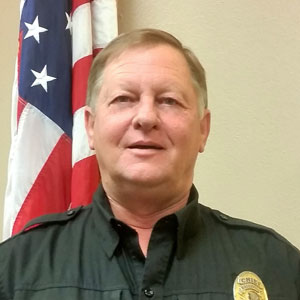 Wesley Freeman
Chief of Police
Our new Chief of Police, Wesley Freeman was born in Longview and lived most of his life in the East Texas area. He graduated from Hallsville High School in 1979. Wesley worked in construction, oil field, and as a truck driver, until he attended the East Texas Police Academy in 1990. He has worked for the cities of White Oak and Lakeport. While at White Oak, he served as a patrol officer and also with the County Organized Drug Enforcement Unit (CODE). For the last 17 years, he has served as Chief of Police for the City of Lakeport, working closely with Gregg County Sheriff Department and the Longview Police Department, as well as with the people and businesses of Lakeport. Wesley is a member of the West Harrison Volunteer Fire Department for 12 years.
Wesley and his wife, Bonnie, of 34 years are residents of Longview in the Hallsville School District. Wesley and Bonnie are both native and graduate of Hallsville. They have 4 sons, Nicholas, Ryan, Aaron, and Geoffrey; and 3 grandsons, Cody, Rustin, and Archer. In his spare time, Wesley enjoys being a "crew member" and helping with his oldest grandson Cody's micro-sprint race car, and also enjoys spending time with Rustin and Archer.
The Hallsville Police Department would like to remind all of our citizens and guests to call:
HCSO at 903-923-4000 if you need police assistance.
If you are unaware, the HPD is dispatched (given calls to service/made aware of calls for service) through the HCSO dispatch.