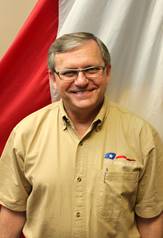 Faron Cain
Finance Director
This City position serves as the Finance Director for the general, water and police departments; reconciles bank statements each month and prepares financial statements for City Council meetings; assists City Secretary with accounting and budget duties; prepares quarterly reports; works with public relations for the City and performs other related work as required.
Faron holds a Bachelor of Arts degree in Business Administration from Baylor University.  Faron worked 10 years at a local bank before buying an independent insurance agency in Hallsville.  He has been involved in many community organizations including:  serving 3 terms as president of the Hallsville Area Chamber of Commerce, 27 years as a City of Hallsville Alderman, Director of Western Days Committee, Director of Hallsville Area United Way, and Treasurer of the local service unit of the Salvation Army.
Faron has worked for the City since 2010 and his duties include co-ordinating internal audit procedures with the external accounting staff, budget preparation, and other special projects as directed by the Mayor and City Council.
Faron has one son who graduated from Hallsville High School and Texas State University.  He and his wife now live in Hallsville.