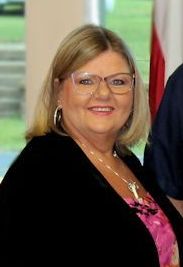 Laura Welch
City Secretary
Laura Welch returned to the City Secretary position in April of this year.  She had previously served in this position from 2010-2013.
Laura grew up in Longview and graduated from Longview High School in 1977.  She attended Kilgore College and earned an Associate of Applied Arts Degree.  She then attended North Texas State University in Denton for one year before returning home.
Laura has lived in Hallsville for the last 38 years deciding years ago this was the place she wanted to raise her family.  She was blessed with 2 sons, Judson Ashmore, Hallsville High School graduate of 2003 and Spencer Ashmore, Hallsville High School
graduate of 2007.  Both her sons and their wife's, Lindsey and Robyn respectively reside in Hallsville along with her beautiful granddaughters, Lennox who is in the 1st grade at North Elementary and Liza who is currently 3 years old. 
Laura Welch
City Secretary
City of Hallsville
P.O. Box 899
Hallsville, TX  75650
903-668-2313 (Office)
903-668-3959 (Fax)
citysecretary@hallsville.us