PURPOSE OF WASTE WATER SERVICES:
The purpose of the Wastewater Services division is to provide wastewater collection infrastructure and treatment capacity for the utility customers of Hallsville and the State of Texas so they can have a clean and healthy environment in which to live.
DESCRIPTION OF OUR SERVICES
Wastewater Services is responsible for the collection and treatment of the wastewater generated in Hallsville.  The activities of this division are conducted within the guidelines of the Texas Commission on Environmental Quality (TCEQ), the Environmental Protection Agency (EPA), and local ordinances.  The Wastewater Collection Division is responsible for maintaining the collection system infrastructure including the gravity sewer lines, manholes, and lift stations.  The wastewater collected by the sewer system flows to and is treated at Hallsville's wastewater treatment plant located on the east side of town. The City's wastewater treatment facility plays an integral role in the protection of our vital surface water resource by working to deliver quality effluent back to the environment.
Water Distribution: Maintain many miles of water distribution lines, making water and sewer taps and maintaining fire hydrants.Meter
Reading: Reading and maintaining meters and responding to customer service calls.
Water Bill Payments: Maintaining records of customer water usage and collecting amounts due from water customers.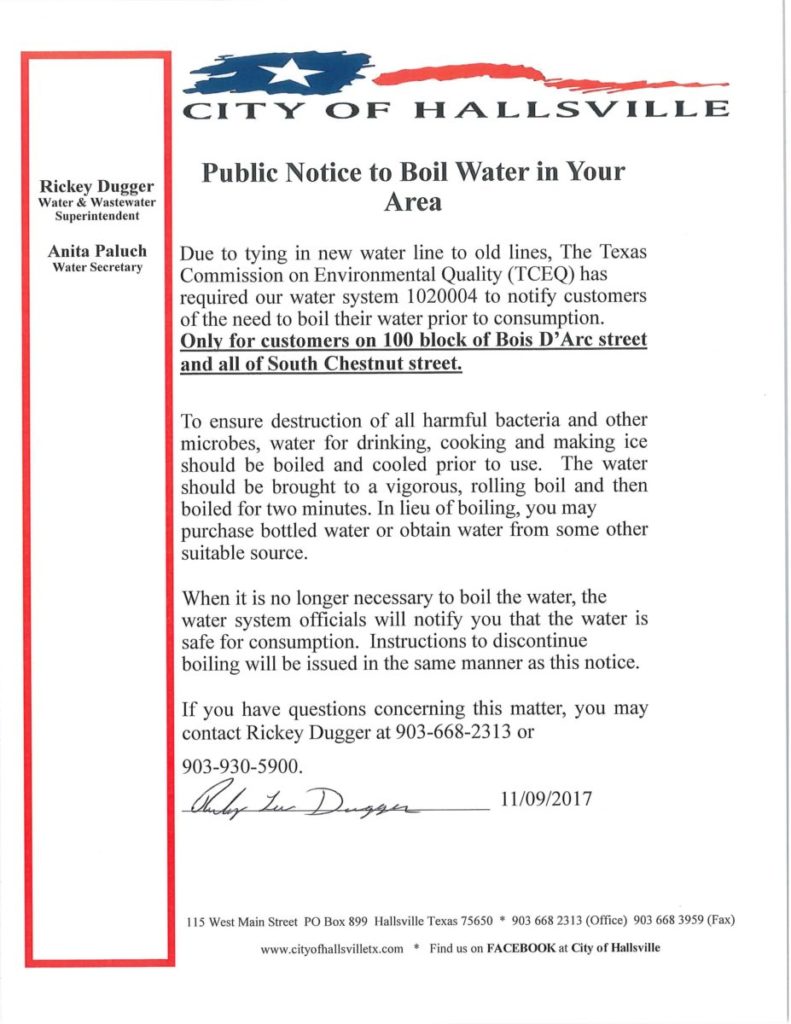 TO: CITY OF HALLSVILLE WATER CUSTOMERS
The CITY OF HALLSVILLE water system PWS ID 1020004 has violated the monitoring and reporting requirements set by Texas Commission on Environmental Quality (TCEQ) in Title 30, Texas Administrative Code (30 TAC), Section 290, Sub-chapter Public water systems are required to properly disinfect water before distribution, maintain acceptable disinfection residuals within the distribution system, monitor the disinfectant residual at various locations throughout the distribution system, and report the results of that monitoring to the TCEQ on a quarterly basis.
Results of regular monitoring are an indicator of whether or not your drinking water is safe from microbial contamination.
This/These violation(s) occurred in the monitoring period(s) Second Quarter 2015.
We are taking the following actions to address this issue by making sure that the reports are submitted by the scheduled due date.
If you have any questions, please contact Anita Paluch at 903-668-2313