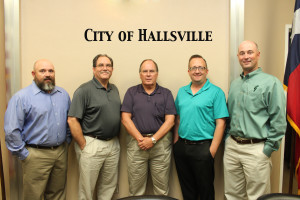 Pictured left to right: Alderman Frankie Dunagan, Alderman Charlie Hunt, Mayor Steve Eitelman, Alderman Brandon Sheffield, Mayor Pro-Tem Dan Herrington.
Not pictured Alderman Mike Bailey
City Council Members are:
Steve Eitelman – Mayor
Dan Herrington – Mayor Pro-Tem
Frankie Dunagan – Alderman
Mike Bailey- Alderman
Charlie Hunt – Alderman
Contact Council Members
903.668.2313
citysecretary@hallsville.us
                    City Council meets 3rd Tuesday of each month
ALDERMAN DAN HERRINGTON
Mr. Herrington is a long time East Texas resident who moved his family to Hallsville in 2005. He has been a banker for 15+ years, and he currently serves as Senior Vice President at Guaranty Bank & Trust in Hallsville. He is married to Lori Herrington, and they have 3 children, daughter Nichole, an sons Stefan and David. Dan is an active community member. He is a member of Longview AMBUC's for 10+ years, and he is a Praise & Worship Leader at First United Methodist Church in Hallsville. He enjoys sailing, youth sports, and music. He plays at local venues with his bands, Anchor Down and Leap of Faith. Mr. Herrington was elected to the City Council in 2015.
ALDERMAN CHARLIE HUNT
Mr. Hunt has been a resident of Hallsville since 2008. He is a Senior Chemical Engineer at Eastman Chemical in Longview. He has been married to Laura Hunt for 33 years, and they have four children and one grandchild. Charlie is active in the community as a Rotarian and a Lion's Club member. As a Rotarian, he organizes the Longview ISD backpack program, which serves over 400 children weekly. He has served as a Baptist Deacon since 1994. Charlie served as a Hallsville ISD Trustee prior to being elected to the Hallsville Alderman position in 2015.
Duties of the city council include:
Enacts ordinances, sets policies, and develops an annual Legislative Agenda for the City of Hallsville.
Oversees the city budget and capital improvements program.
Holds weekly council meetings to address issues and concerns in the community.
Responds to constituents' concerns at neighborhood meetings, through written correspondence, and telephone communication, and staff assistance.
Serves on Mayor and Council Subcommittees to deal with specific issues such as public safety, youth and family issues, and community services.